Instagram Hashtags 2019 Guide: How to Get that Competitive Edge
Hashtags remain one of the most #powerful (see what I did there?) features Instagram has to offer to small businesses. To put everything into perspective, allow me to drop one little stat: Adding even just one hashtag to your post increases the level of engagement that post receives to 12.6%.
Now imagine the level of engagement you can unlock by adding more. To put it simply, Instagram hashtags are capable of widening your reach to a far larger audience. Therefore, it can dramatically grow your followers, which, in turn, can help in making your brand reputation.
To help give you that competitive business edge, I've put together a comprehensive guide on how to effectively use Instagram Hashtag in 2019. If you are ready, so am I! #Hashtaggoals #business #entrepreneursofinstagram #marketing #contentmarketing #digitalmarketing #instagramtips #socialmediatips #instablogger
Let's do this!!
Why You Should Add Hashtags to your Instagram Posts
The monthly
users of Instagram have reached an all-time high of 1 billion in 2019, and that
figure is only projected to rise month by month. Every day more than 100
million posts are created on Instagram. If you are a business owner who doesn't
have any idea on how Instagram ranks content, chances are your post will just
be obscured by the millions out there.
You will
never reach your intended audience. You'll have minimal follows. And you'll
never grow your brand the way you intended to. That scenario defeats the
purpose of Instagram as an effective social media marketing tool.
That's where Instagram hashtags come in. A hashtag is a carefully chosen group of word/s preceded with the number sign (#) and strung together without spaces between them.
It's
basically Instagram's way of delivering relevant content to the right users.
It's a sorting system per se. When a user searches for a certain hashtag, say
for example #photooftheday, Instagram (with the use of its very powerful
algorithm) checks its database for all posts tagged with that hashtag, ranks
them according to their engagement rate, and shows all the relevant posts to
the user with the top 9 highest ranked posts shown first.
Related Article: Instagram Top 9 – Want to Actually
Rank?
For online marketers, its main purpose is to target a specific group of people searching for specific posts they are particularly interested in. Using Instagram Hashtags allow your targeted audience to find you, and not the other way around, which makes social media marketing so much easier.
How Many Instagram Hashtags Should You Use to Get Optimum Result
So, what is the optimum number of Instagram hashtags to include in your post? There is a mixed opinion about this.
The maximum number of hashtags you can put in a post is 30. If you exceed that number, Instagram will post your picture, but you'll find your caption area blank.
Some
marketers believe that having too many hashtags technically categorizes your
post as spammy, specifically suggesting to add only 5-6 tags per post. This is
totally not unfounded, as the ever-changing Instagram algorithm penalizes
spammy tags.
Others say
the more hashtags you use the higher the engagement rate you receive, and
therefore will result to your post being ranked higher and be seen by a wider
audience base.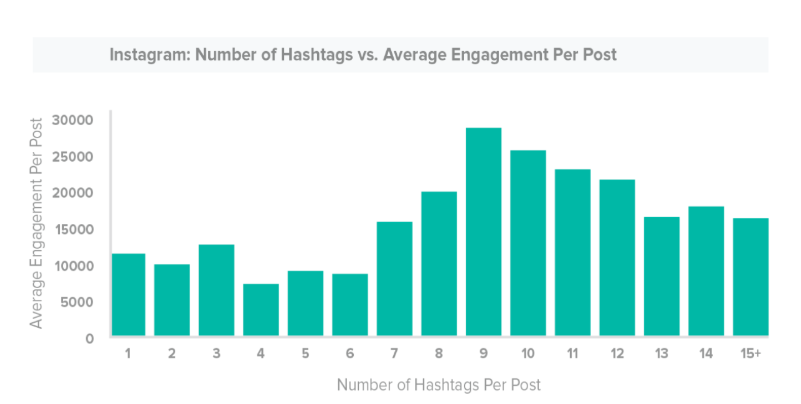 To have a
definitive answer to the question, let us take a look at a recent study
conducted by TrackMaven. As you can see from the graph, posts with more
hashtags generally receive higher engagement from users. It can also be noted
from the graph that the optimum count of hashtags is 9.
The best way to find out how many analytics to use is to monitor your own hashtags. Find out more about how to get started with this and anything else hashtag related with my Heart To Hashtag course.
What Else Do You Need to Know About Instagram Hashtags?
#1 Users can now follow Hashtags
This update was just launched last year, but it changed the game of online marketing big time. Following Instagram hashtags mean a user can be up-to-date on the recent posts under the tags they are most passionate or interested about.
For businesses, this means that people can discover your brand. It's an opportunity that allows your brand to regularly appear in a user's feed. If your business has great content and you are able to up your engagement every now and again, that could translate to a lot of people following what you have to offer to them.
#2 You can add hashtag to your Instagram Stories
If you are
not aware, Instagram Stories is yet another powerful feature of Instagram
that's perfect for businesses. Instagram Stories are temporary versions of your
regular Instagram posts. They last only for a period of 24 hours and are meant
to share more casual in-the-now moments that you don't necessarily want to
appear permanently in your regular Instagram page. And of course, you can add
hashtags to them. The hashtag limit for Stories is 10.
Hashtag
follow apply to Instagram Stories as well.
If you want
to know more about how to leverage Instagram Stories for your business, check
out my previous post Instagram Stories (hyperlink of article needed here)
to know more.
Related Link: Boost Your Business, Get Started with Instagram Stories Now!
#3 You can add clickable hashtags to your bio
Another
recent update that Instagram launched is the option to add a clickable hashtag
to your bio. An Instagram bio is an important virtual facade for every
business's online presence. You business bio should be engaging enough to catch
the attention of users almost instantly as soon as they read it, effectively
converting them as a follower. It should also encapsulate what your business
has to offer.
Adding a clickable hashtag to your bio makes it more functional. For example, you can add a hashtag highlighting your brand's content, which when clicked transports the users to the many fabulous products, content, and campaign you've have created thus far. You can also use it to promote upcoming events.
2019 Instagram Hashtags Best Practices
Keep Tabs of your best hashtags
You should
take note of all the hashtags you have used on all your posts. Keeping tabs
will provide you with insights on which ones perform the best. You should
particularly note which hashtags generate a lot of engagement and which ones
are linked to your most popular posts. You'll be surprised that results could
vary; one hashtag could be good for a certain post, while others are not. Keep
the best performing of the bunch, and shut down those that do not.
To help in monitoring, you can use spreadsheets to manually input all the relevant data you've taken. This process could be painstakingly laborious, especially when your profile has grown quite a lot in terms of following. If you're not down for manual tabbing, you might want to consider a tool to track down your hashtag activities such as Iconosquare. This tool allows you to know which hashtags reach the most users and automatically stores them for you.
Use relevant hashtags only
While
Instagram allows you to add as much as 30 hashtags in a single post, you cannot
just insert any random hashtags you think would fit. They have to be relevant
to your post and totally not out of context. Be as specific as possible when
creating or choosing the right hashtag.
Irrelevant
hashtags could annoy a lot of users, and this will lead them to report your
post as spammy to Instagram.
Remember, the only way to increase your engagement is to provide your followers with the content that they want to see. And a big part of your content is the caption you write and the right hashtags that goes with it.
Know the right amount of hashtags
Earlier I
have presented a statistic that suggests using more hashtags generate more
engagement. For established brands, however, they don't necessarily follow this
generalized rule. A widely popular brand doesn't need to include as many as 6
hashtags on their post because the sheer number of followers they have already
guaranteed high engagement.
For start-up accounts, using as much as 15 hashtags might be a good starting point. Or you can follow the optimum count of 9 hashtags. Later on, as you grow your follower base and through constant experiment, you will realize how many hashtags really work best for your content.
Use hashtags that have low content volume
It's a given that your post should include a couple of popular 'relevant' hashtags, but don't shrug off totally unpopular hashtag. That's because a smaller pool of content allows your post to get discovered more with less competition. Hashtags with volumes ranging from a few hundred thousand to less than a million would be a great idea. Less competition means your post's likelihood of getting into the top search result is higher. Making it to Instagram top 9 posts provide an opportunity for your content to be discovered by random users.
Do not use banned hashtags
Instagram
is now banning hashtags. If you are not aware of that, let me break it to you
now for your own good. Banned hashtags are those used for inappropriate content
such as pornography, nudity or terrorism. It could also be those hashtags that
are widely overused by users, causing it to be spammy. Instagram have also
banned random words which seem to be totally harmless. The reason for banning
is unclear as Instagram has not given enough information on how they decide
which hashtag is due for banning.
If you
happen to add a banned hashtag to your post without you knowing, it will
probably not be discovered by users. Also, using banned hashtags lowers the
engagement you receive. It is Instagram's own way of penalizing spammy
accounts.
So, the next time you post, make sure that the hashtag you've chosen is not banned. You can easily search google for the updated list of banned hashtags. The list is being constantly updated so give it a visit every now and then.
You can watch a tutorial here about banned hashtags.
Do not use the same hashtags every time
Do not use the same hashtags over and over and over again. Doing this could alert Instagram algorithm that your post is a possible bot activity. Moreover, posting the same group of hashtags, again and again, is considered spammy.
My suggestion is to use sparingly the hashtags that work best for you. This is where the record of hashtags you've been using comes in handy.
Research the hashtags your competitors and audience
are using
Let's admit
it, competition elevates the quality of products or services offered by
businesses. It works the same way in online marketing. Call this copying,
espionage or whatever, but for me, this is one sure way to stay on top of the
game and stay relevant to your followers. Sometimes, your competition uses
hashtags that are well received and generate tons of engagement for them; I
say, it is not a negative thing to borrow an idea. If you could tweak the tag
to suit your brand, all the better.
In the same
way, find time to research what hashtags your audience is using and searching.
Use the ones that are most relevant to your post. This way if your follower and
audience follow a certain hashtag, you can be assured that your post will have
a constant presence in their feed.
Want a Free
INSTAGRAM course?​
Sign up to discover how to grow your Instagram and get more sales. And, get this - we're going to grow your email list at the same time! Learn my neat trick in ten days!!